About
Kaitlyn Wagner (b. 1993) is a North Carolina-based composer whose works have been performed by the Cleveland Institute of Music, the Freya String Quartet, Cellist Dr. JW Turner, the Oasis Saxophone Quartet, violinist Sarah Plum, and a variety of musicians hailing from Singapore and the Ukraine to students at the University of North Carolina at Greensboro. Ms. Wagner is a member of the Society of Composers, Inc., Women's Audio Mission, and the Audio Engineering Society and is the Vice President of the University of NC Greensboro chapter of the Society of Composers, Inc.
In 2013, Kaitlyn was the youngest featured composer at the Charlotte New Music Festival, where her piece
Kings of Infinite Space
was performed by the Pittsburgh-based Freya String Quartet, and in 2014 she attended the Bowdoin International Music Festival. In 2015, her piece
I, Philip
for Moog Synthesizer and live electronics was performed at the 2015 National Student Electronic Music Event, Root Signals Festival, and the Electroacoustic Barn Dance. Her long-term composition teachers have included Randall Woolf, Alejandro Rutty, Mark Engebretson, Steven Bryant, Derek Bermel, and Samuel Adler.
Ms. Wagner is a Senior at the University of North Carolina at Greensboro, where she majors in Music Composition and works as a technician in the school's recording studio. When not in school, Kaitlyn works in acoustical measurement as a part of an ongoing internship at Polk Audio in Baltimore, MD.


Photo Courtesy of Rachel Garrison: http://www.rachelgarrison.com
---
Powered by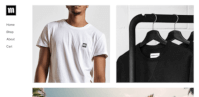 Create your own unique website with customizable templates.