Quartet (Saxophone Minature) (2013)

"Quartet" is a 1' 45" miniature for saxophone quartet written for the Oasis Saxophone Quartet in 2013. It is an exploration in counterpoint with most of the parts being inverted, retrograded, and reharmonized from other existing parts.

Powered by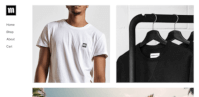 Create your own unique website with customizable templates.